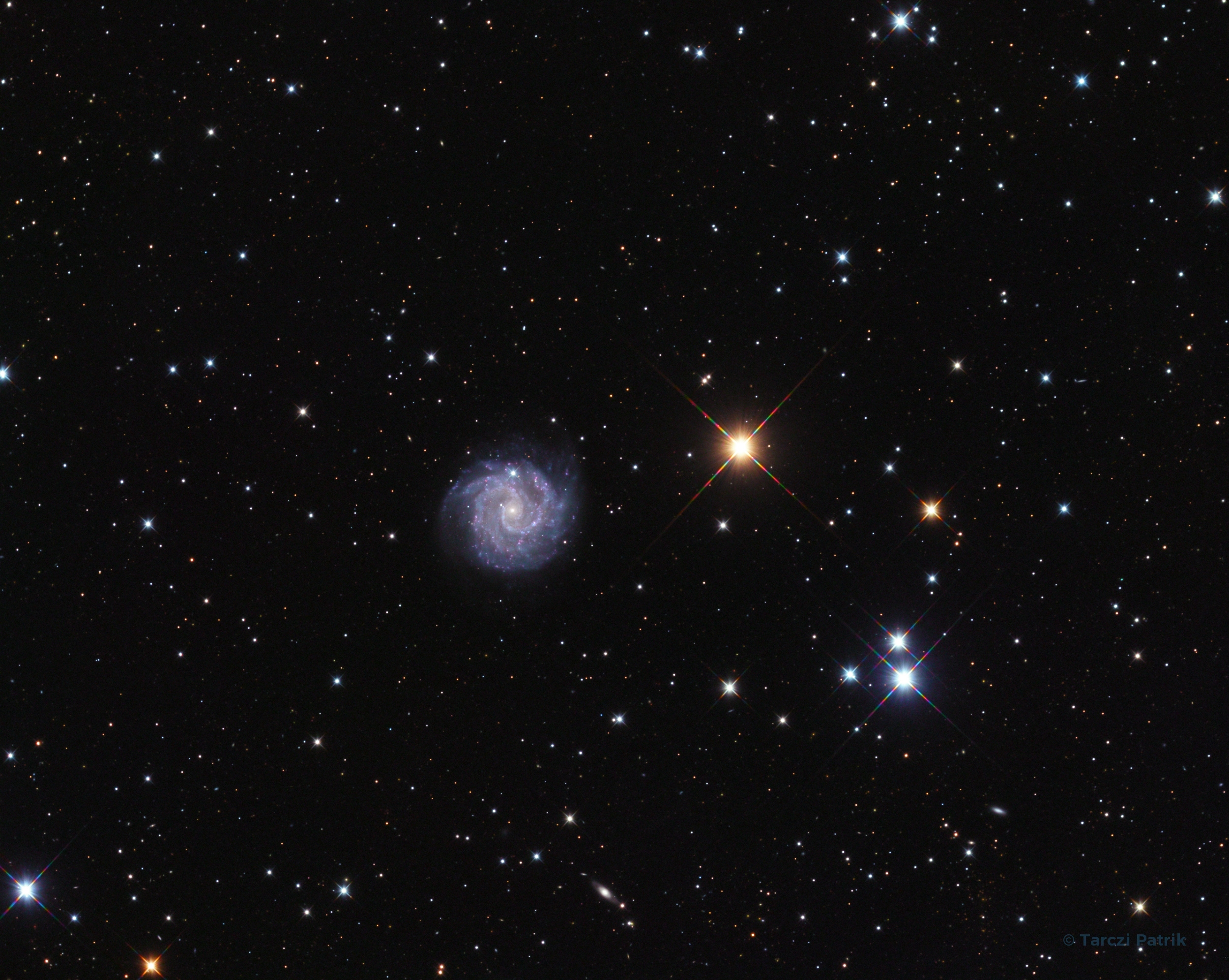 Technical data
| | |
| --- | --- |
| Instrument: | 173/700 Newton-astrograph (ZsIO), SkyWatcher comacorrector F/4 |
| Camera: | Atik One 6.0 |
| Filter: | Astronomik Deep-Sky LRGB, Astronomik L2 |
| Mount: | SkyWatcher NEQ6 Pro Synscan (modified) |
| Guiding: | Lacerta M-Gen autoguider, OAG |
Image data
| | |
| --- | --- |
| Exposure time: | 11 hours - L: 25x7 mins, R: 19x10 mins, G: 15x10 mins, B: 15x10 mins |
| Location, date: | Hungary, Izsákfa - 2016. December |
| Transparency: | 7/10 |
| Temperature: | -10 °C |
| FWHM: | 2.45" |
| Processing: | CCDStack, Registar, Pixinsight LE, Photoshop |
Description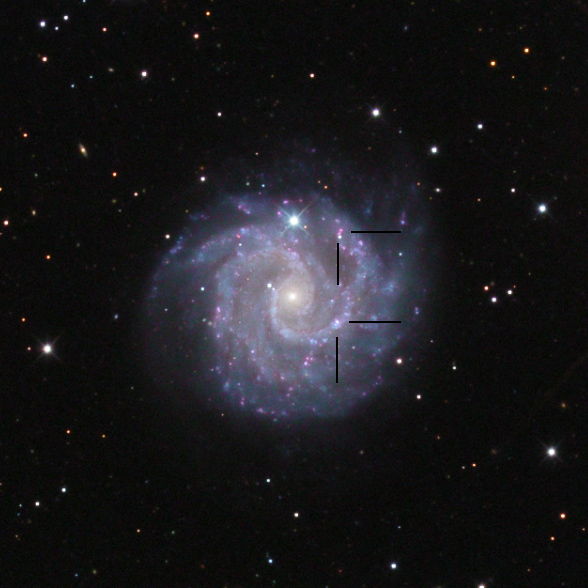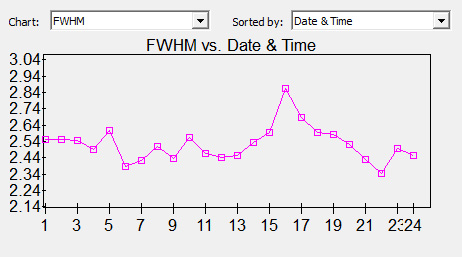 NGC 3184 is a spiral galaxy approximately 40 million light-years away in the constellation Ursa Major. It has two HII regions named NGC 3180 and NGC 3181.
The upper marked object is the 3180 and the other one is 3181.A lot of supernovas have discovered in 3181, houses a high abundance of supernovas.
1921B (mag 13.5), 1921C (mag 11), 1937F (mag 13.5), 1999gi (mag 14), 2010dn(mag 17), 2016bkv(mag 15)
On the figure below can be seen the seeing during exposure of luminance channel in arcsec.
Technical data
| | |
| --- | --- |
| Instrument: | 173/700 Newton-astrograph (ZsIO), SkyWatcher comacorrector F/4 |
| Camera: | Atik One 6.0 |
| Filter: | Astronomik Deep-Sky LRGB, Astronomik L2 |
| Mount: | SkyWatcher NEQ6 Pro Synscan (modified) |
| Guiding: | Lacerta M-Gen autoguider, OAG |
Image data
| | |
| --- | --- |
| Exposure time: | 11 hours - L: 25x7 mins, R: 19x10 mins, G: 15x10 mins, B: 15x10 mins |
| Location, date: | Hungary, Izsákfa - 2016. December |
| Transparency: | 7/10 |
| Temperature: | -10 °C |
| FWHM: | 2.45" |
| Processing: | CCDStack, Registar, Pixinsight LE, Photoshop |
Recommended photos